Our union election will take place on Monday, January 30th and Tuesday, January 31st!
A supermajority of us signed cards calling for an election, almost a thousand of us have pledged to VOTE YES, and, at the end of this month, we get our chance to cast our ballots! Over the last several weeks, we have been negotiating with Hopkins and the labor board over election logistics, and today, we signed an agreement finalizing election dates.
We have one shot at this election, which is why it is crucial for you to make your voice heard on election day and vote UNION YES. Every day, graduate workers at Johns Hopkins are already making clear that the majority of graduate workers want a union by signing the Vote Yes Pledge. We are uniting to demand payment on-time, every time; wages we can live on in Baltimore; and more. We are excited to win together!
Election Overview
● The election will take place on Monday, January 30th and Tuesday, January 31st
● There will be polling locations on the Homewood, East Baltimore, and DC campuses
● KN95 masks are required inside the polling locations, vote captains and building leads will provide masks!

● You must vote in person!
● You still need to cast your ballot regardless of if you signed the vote yes pledge and/or a union card.

● If you can't be present on campus to vote, you can still make your voice heard by signing the Vote Yes Pledge to stand alongside your coworkers in supporting TRU-UE
Polling Locations and Times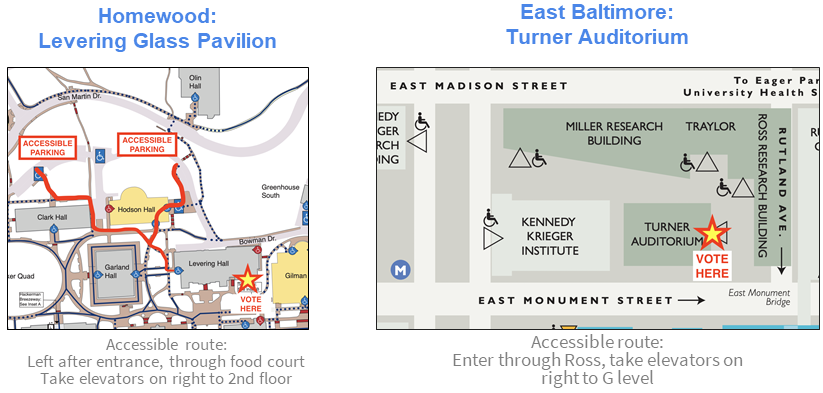 Every eligible voter will be assigned a polling location. The list below is a guideline based on confirmed locations from the NLRB, and each voter will receive instructions of where to go prior to the election. Your work location might not necessarily be your polling location. Why? Due to how the University is structured, and we are waiting on details from Hopkins and confirmation from the NLRB for where each worker must vote.
Homewood Campus
Levering Hall Glass Pavilion, 3400 N. Charles Street

January 30 and 31, 9:00am–1:00pm, 4:00pm–8:00pm

Voting on Homewood:
Krieger School of Arts and Sciences
School of Education
Whiting School of Engineering, including EHE-Whiting students
East Baltimore Campus
Turner Hall Auditorium, 720 Rutland Avenue

January 30 and 31, 9:00am–1:00pm, 4:00pm–8:00pm

Voting on E. Balt:
School of Medicine (including all BME – carpool details to come…)
School of Public Health, including EHE-SPH students
School of Nursing
School of Advanced International Studies (Washington, DC Campus)
Bernstein-Offit Building
Room 500
1717 Massachusetts Avenue NW,
Washington, DC

January 31, 1:30pm–3:30pm (One day only!)

Voting in DC:
School of Advanced International Studies
Who is an Eligible Voter? Can I Vote?
You can vote in this election if you are a graduate student currently enrolled in a Johns Hopkins University Ph.D. program who is providing, or at any point in the 2022 calendar year was providing, instructional and/or research services for the university. This includes graduate assistants, teaching assistants, research assistants, and fellows.
If you believe you fall into this definition, you should vote on election day. If you aren't sure if you fall into this definition, you should still vote on election day. Please reach out to trujhu@gmail.com with questions or concerns.
How can I ensure we win in January?
Sign the VOTE YES pledge and make sure your friends, coworkers, and labmates have signed. Whether or not you will be on campus to vote yes on election day, every pledge to vote yes helps build momentum for our campaign. It's a pledge to your fellow workers that we are standing together to fight for the workplace we deserve.
Make a plan to vote! If you signed the Vote Yes Petition, a department organizer (DO) from your program or a Vote Yes Captain will be in touch to discuss election logistics and make a plan to vote. Start to think of when you will be free on these days to get to the polls, and invite your coworkers to join you.

Sign up to be a Vote Yes Captain! Workers organize workers in this campaign, and we need your help to inform our coworkers about the details of the elections.
If you have questions about the upcoming election, get in touch with your department organizer. Stay tuned for more information in the coming weeks. See you at the polls!